Rocky Mountain Smiles Is the Family Dentist in Loveland, CO You've Been Searching For
Schedule Your Dental Implants Today
We understand how hard it is to be missing teeth. Regardless of how it happened, our experienced professionals are ready to help you fix your beautiful smile. Call us today and regain your confidence eating, speaking, smiling, kissing, and laughing out loud!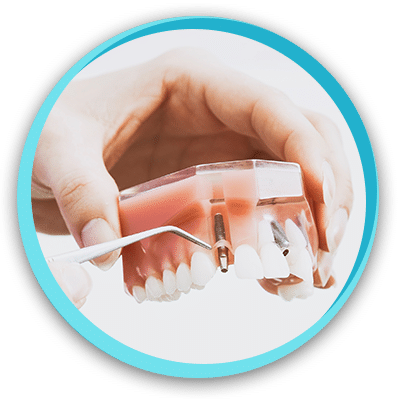 Are you a good candidate for dental implants? Dental Implants may be a great option for you if you:
Are missing one or several teeth
Are looking for an alternative to dentures
Have a strong and healthy jaw bone
Have healthy gums and tissues
Don't smoke or chew tobacco
Want a natural looking tooth replacement option
Under the care of an experienced professional, dental implant surgery is one of the safest and smoothest procedures possible.
---
What Are Dental Implants?
Dental implant surgery is a time-tested dental procedure that replaces the gap of a missing tooth with a prosthetic tooth. The first step of the surgery begins at the root of your teeth when the dentist either drills or bonds a hollow, usually metal, screw into the jawbone. After that, a small connector, also called an abutment, is attached to the implanted screw. The abutment acts as the "dentin" of your new tooth! Finally, a beautiful, custom-made crown is placed over the top of the abutment. The crown will look as close as possible to the rest of your teeth. Then you have a bright, gorgeous, full smile! The crown acts exactly like the rest of your teeth and you can return to eating, smiling, and talking like you normally were before the missing teeth. The entire process usually takes six-to-eight months to allow for full healing.
Why Would I Want Dental Implants?
There are lots of benefits to getting implants as opposed to dentures or bridges. Implants offer a more natural look to your smile, one that is oftentimes completely undetectable to you and to others. They are one of the more comfortable options for most patients, with less risk of rubbing, sore spots, or other painful points in the mouth. Implants stand alone, allowing your other teeth to grow and develop naturally; there is no grinding or adhesion to your neighboring teeth. Oftentimes, implants offer a great permanent solution to getting a brighter, healthier smile as they're less susceptible to causing pain or being seen.
Be a more confident, carefree you!
We want you to have a smile that you love and that boosts your self-esteem. Dental implants are the way to go! We will prioritize you and your dental office experience every step of the way, from your first consultation until you feel ready to flash those pearly whites. Our dental experts are dedicated to giving you quality service and the best customer care in Loveland, Colorado. Call us today to schedule an appointment!